My year in review: 2021 (Donate all the things)
Another year has passed and it's been 4 years since I did one of these (oops!), so here's my 2021 year in review. If you'd like to send some birthday love my way, I've also included a list of some great organizations that could use your support!
Games
Honestly, 2020 and 2021 have been years of struggle for me game dev-wise. After releasing SweetXheart and making a little game for the Death By Audio Kickstarter in 2019, I took a break. Then COVID-19 happened and my momentum slowed even further.
Game development was another one of my jobs from 2012 through 2019. The break has been healing. I'm building up motivation to work on my game more often through bullet journaling, but I accept that my relationship with game development is not what it once was. It happens when it happens.
A work in progress
Early this year, I received a grant from the Moonrise Fund. I have slowly been working on a new project and am earmarking the funds for an artist and musician. After working in three different engines, I finally picked on and made a very rudimentary prototype. More news will come next year.
Game Devs of Color Expo
We did our sixth Game Devs of Color Expo this year, which is wild. The team gave out $150,000 of grants to six developers of color. We're also proud that more people engaged in this year's event than last year's, despite it being the second year online!
This year's subjects included game worker cooperatives, character development, and building a community for your game. If you'd like to watch talks from this year, we are releasing them in this YouTube playlist. You can subscribe to our channel to get updates about new videos.
On the administrative side, I hired and managed more people! In addition to continuing my role as the Communications lead and managing two individuals across social media and email, I also hired and directed a motion graphics contractor and video production team. It was a major uplevel from the 2020 event, which went seamlessly but involved a lot more hands-on effort from the organizing committee.
The team recently created a roadmap for the 2022 event which outlines hiring opportunities that would benefit our efforts. For example, I spent the weekend running the 2021 livestream and hope we can pay another person to do that moving forward. Here's to continued operational improvements in 2022!
Tech
My relationship with tech has changed in the past few years and I've been more selective with the energy I choose to spend on work. One of the healthiest things I did for myself was limit the number of speaking gigs I accepted per quarter. The extra mental space helped me navigate the toughest parts of the pandemic so far.
Asana
It's been almost two years since I joined Asana! My goal was to dive deeper into my Product Design craft and get the support needed to keep building leadership skills as a Staff Product Designer. I am grateful for the positive, collaborative working relationships I have cultivated across the company.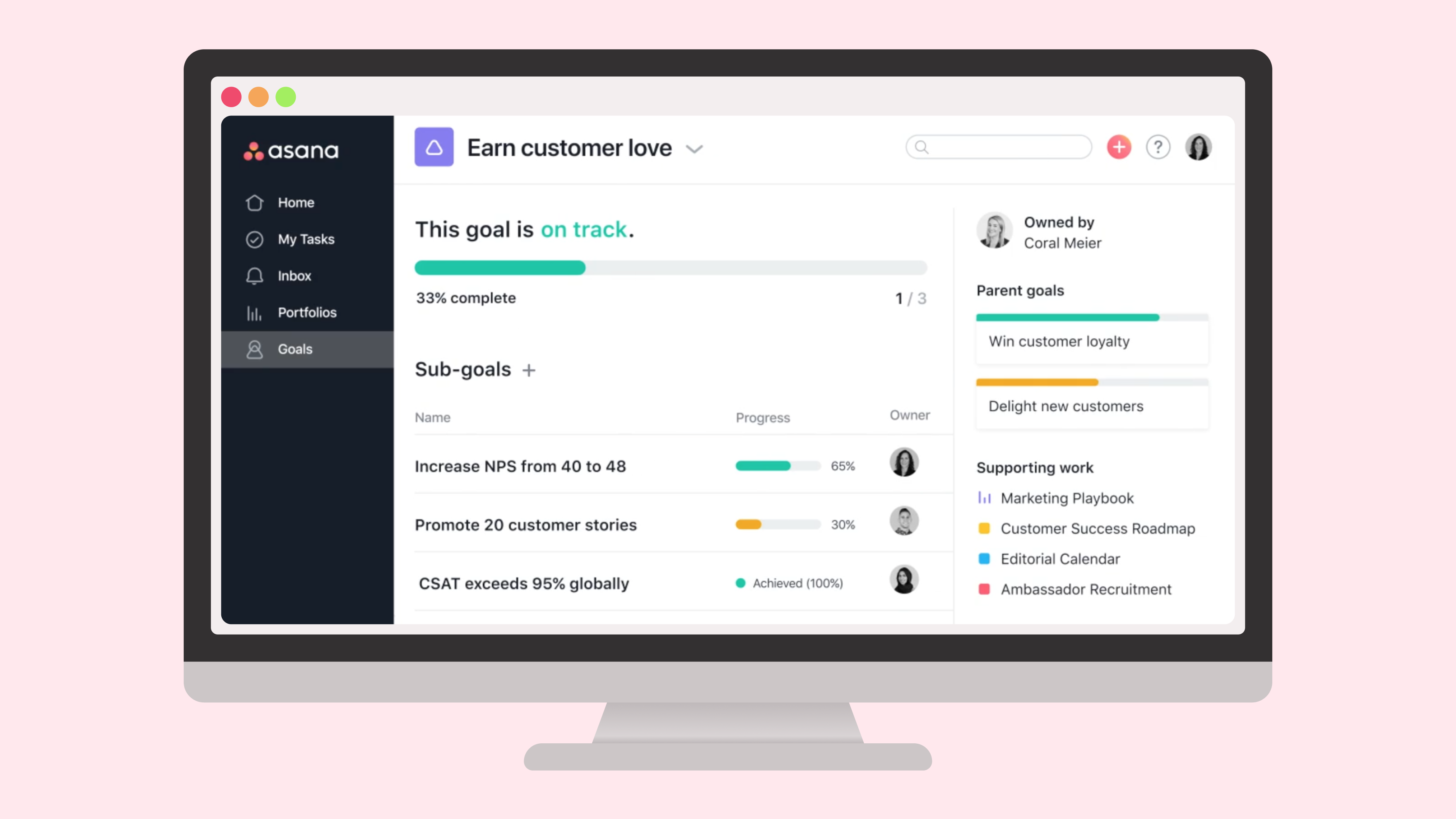 A marketing image of the Asana Goals MVP from 2020.
In 2020, we launched the Asana Goals MVP, a goal management experience within Asana's work management product. This year, we added continuous improvements to the product and scaled from one team to two. With the added power, we were able to roll out a number of major improvements to the platform including the ability to group goals by time period, a new tabbed list view, and expanded status updates.
My work on Asana Goals contributed to the company's 2020 IPO. This was big for me because Etsy IPO'd right before I joined in September 2016 and I only saw effects afterward. Asana Design has grown so much in just two years, and I am proud to have relevant experience to share with the team as we continuously scale. Excited for year 3!
Events
I spoke at four events this year. Two were major conferences (UXFest and LeadDev) and two were webinars (for Designlab and Asana). Clarity, a design systems conference, also paid me to draw sketchnotes — the first time I've ever been commissioned for my artwork by someone outside my family!
All of the events were online, which made them very convenient. I spoke about career sponsorship, designing Etsy's seller stats, and leading the launch of Asana Goals. I personally enjoyed the pre-recorded format both conferences used, as it produced a higher-quality viewing experience. I also felt very comfortable speaking at a camera.
The above being said, part of me does miss in-person conferences. I enjoyed traveling to new places and meeting cool people! I hope my future includes in-person events when those are safe to do.
Learning
2021 was an extension of 2020, the most painful year I've yet known. Education has always helped me reset and reframe my view of the surrounding world, so I studied during a lot of 2021. In addition to a bunch of one-off webinars, I took three classes that helped me to stay focused on my long-term goals — something important to me amidst pure existential chaos — and I continued to build my skills as a leader.
From January through April, I participated in an asynchronous class called Shift Nudge. After over 10 years in the industry full-time, I needed a refresher course in visual design. Apps were just catching on when I went to graphic design school, so it was helpful to hear a modern take. Shift Nudge was immediately applicable to my job as a product designer, so I'd highly recommend it if you're interested in visual design! It also helped me feel less burnt out about design in the context of stressors outside my control.
After a break to prepare for the Game Devs of Color Expo, I joined a learning community called Pipeline Angels. Thanks to Asana's IPO, my income hit the threshold to consider angel investing. Game Devs of Color Expo saw success with game dev grants, which inspired me to learn about funding ideas on the tech side. Pipeline Angels' classes gave me a great introduction to that world and I look forward to putting my money where my mouth is by funding some amazing founders.
My last major educational investment of 2021 was another learning community called On Deck Design. In 2016, I participated in a set of weekly sessions with other designers called Orbital Design Studios; those conversations helped me grow into a senior role at SoundCloud. I missed that kind of communion until I found out about ODD! While ODD's main offering is a roster of classes and webinars, my favorite parts thus far have been the biweekly mastermind groups and monthly random 1:1s. With the help of others, I built confidence in my pre-existing skillset and identified growth opportunities to invest in.
If you're finding yourself creatively blocked or at a fork in the road, I highly recommend taking some classes. Through Shift Nudge, Pipeline Angels, and On Deck Design I was able to confirm my love of design and find opportunities to further invest (literally) in the communities I care about. I'm excited to continue learning in 2022.
Writing
This year, I set a goal to write six articles (including case studies) and send six email newsletters. I'm proud to say I completed my article goal as of today! Excluding the update you're reading right now, here are the blog posts and case studies I wrote in 2021:
As for my newsletter, subscribe to see the archives where all of the emails from this year live. I've got one more to send by Friday.
Donations
Since today is my birthday, I wanted to round out this year in review with an ask. In previous years when I needed the funds, I asked for direct donations. But I'm financially comfortable right now and have been paying it forward through several donations to community organizations, GoFundMes, and non-profits in amounts ranging from $50 to $650.
If you can send a few bucks to any of the following NYC-based non-profit organizations in my name, it'd mean a lot:
All of these organizations are local to NYC and intersect with my values. If you want to share the love, free to tweet me @cattsmall with a screenshot of your donation. I'd love to get the word out about support for these organizations!
That's all, folks!
Whew, what a year! Writing this summary helped me reflect on the rollercoaster that was 2021. I wasn't aiming to grow as much as I did, but I'm proud of myself for minding my mental health and focusing on learning rather than trying to force myself to overproduce. I wish you a healthy and safe 2022 full of opportunities to rest and do only what you want.
Upcoming talks
I don't have any upcoming speaking engagements. If you're interested in having me speak, get in touch!
Want to talk?
Got feedback, looking to suggest a future writing topic, or want to invite me to speak at your organization? Send me a message and I'll get back to you as soon as possible!