My year in review: 2017 (A.K.A. Delete Year)
Hello, hello! As we move into a new year, I thought it might be nice to provide a summary of all the stuff I did in 2017. Despite this being the alternate hellscape timeline, I still managed to get a lot done.
Games
As with previous years, I continued to work on games. During the first quarter of the year, I did a fair amount of game development on my Twitch channel. It was a great way to feel a sense of accountability while working on a project that I still have in progress, SweetXheart. I'm going to continue working on the game in 2018 and would like to get back into the habit of streaming when my schedule allows.
Train jam
In late February, I took a train from Chicago to San Francisco and made a game with a small team in just over 48 hours. I was lucky enough to work with Brice Puls, Rachel Bazelais, and Whit Trebella, who are three talented designers and developers.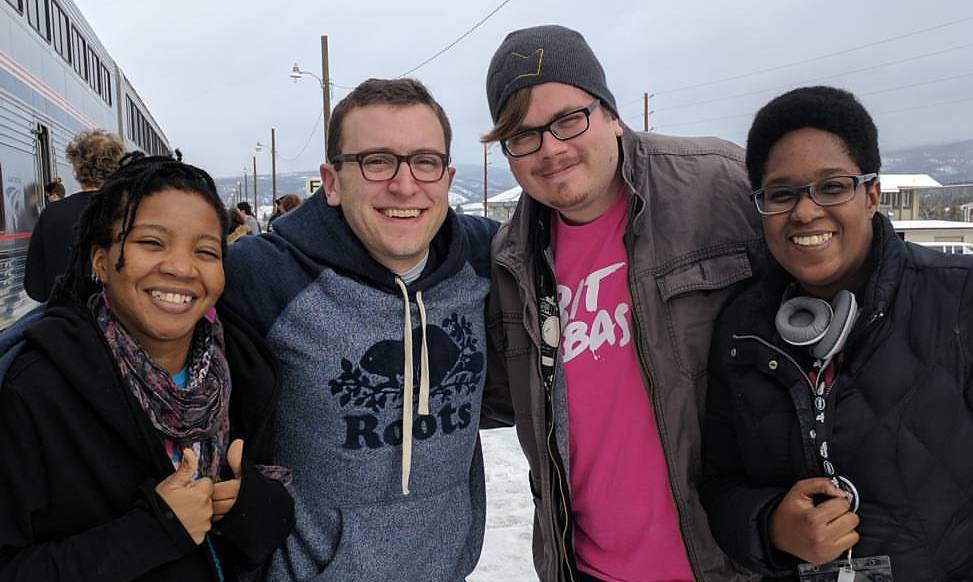 The team! They're all so great <3
Seeing as though no one else was as visual design-centric, I took on the role of experience designer and developer. It was fun to create a colorful environment in which players could immerse themselves. The game, BeatCoaster, is playable on Itch.io.
GDC
Once I arrived in San Francisco, I spoke twice at the Game Developer's Conference. My first talk was about a method I used to teach user experience design to game developers. The second was about the value of UX design in games, which I had the honor of presenting in a massive room during the annual microtalks session. Both talks received incredibly positive reviews. You can watch my microtalk for free in GDC's vault. On a similar note, I also released an incredibly long summary of my thoughts on UX, games, and gamification last month after two years of work.
Game Devs of Color Expo Redux
My biggest games-related achievement of the year was definitely organizing the 2017 Game Devs of Color Expo with Brian Carr, Chris Algoo, Dennis Liaw, Jason Vega, Jarryd Huntley, and Shawn Alexander Allen. Shortly before the event in June, I wrote about why I helped to organize the event. The Fresh out of Tokens podcast also interviewed me and Chris Algoo a few days beforehand.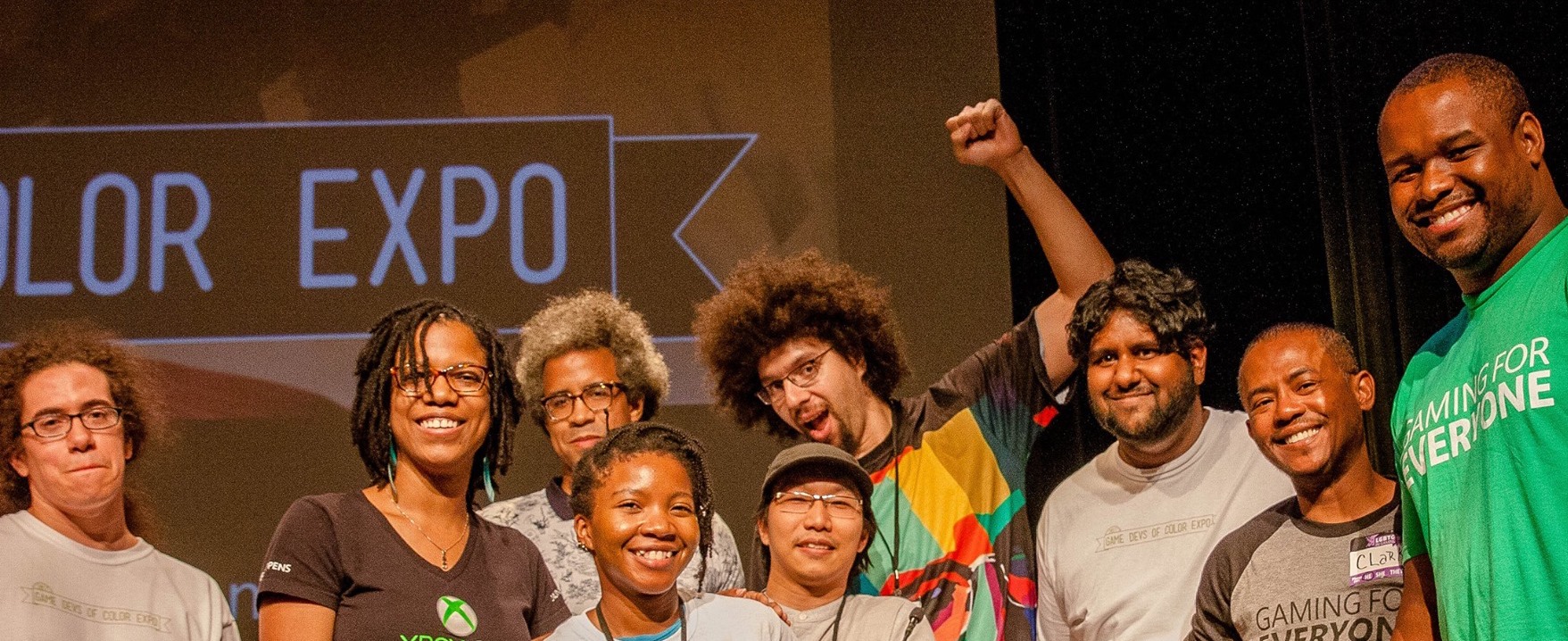 Bless up bless up bless up.
Over 400 people attended the expo, and we showed about 30 games. Additionally, we had a variety of talented speakers who discussed topics related to game design and development. Providing people who are often pushed to the margin with a platform filled me with joy. I'm also proud we were able to compensate those who spoke onstage. You can view all the talks in the event's playlist on YouTube.
VR Brain Jam
In July, I went to a game jam organized by Games for Change and created a prototypical game about focus called Cynosure. We had a riveting discussion about depression, anxiety, and social media overwhelm. After some brainstorming, we came up with a fun idea.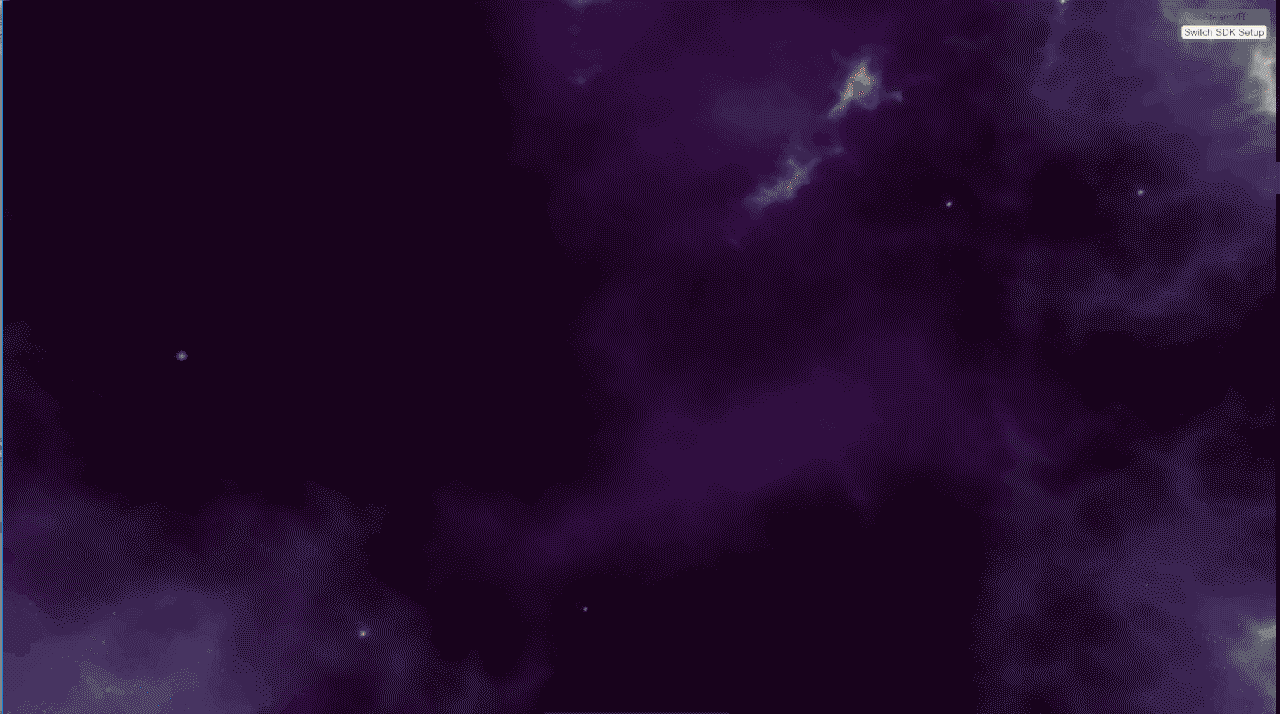 Shiny.
In the game, you are a celestial being that needs to take on requests by planets in your galaxy. You roam around and listen to the planets and decide which requests to help with. Requests range from annoying to life-threatening, and choosing the less important ones could be fatal for other planets. Our hope was that a complete version of the game would help reduce choice paralysis by giving people a play-space in which to make choices.
Breakup Squad at games events
Breakup Squad appeared in several games events this year, including one at the Victoria and Albert Museum in London and another in Paris. I was not present for most of the showings, however I was lucky enough to make it to IndieCade in Los Angeles to show the game in person during their Friday Night Fight event. I also showed the game at an indie game event hosted by The Leaderboard at YouTube. It was profoundly mondblowing to have a game I helped to create in so many events.
Tech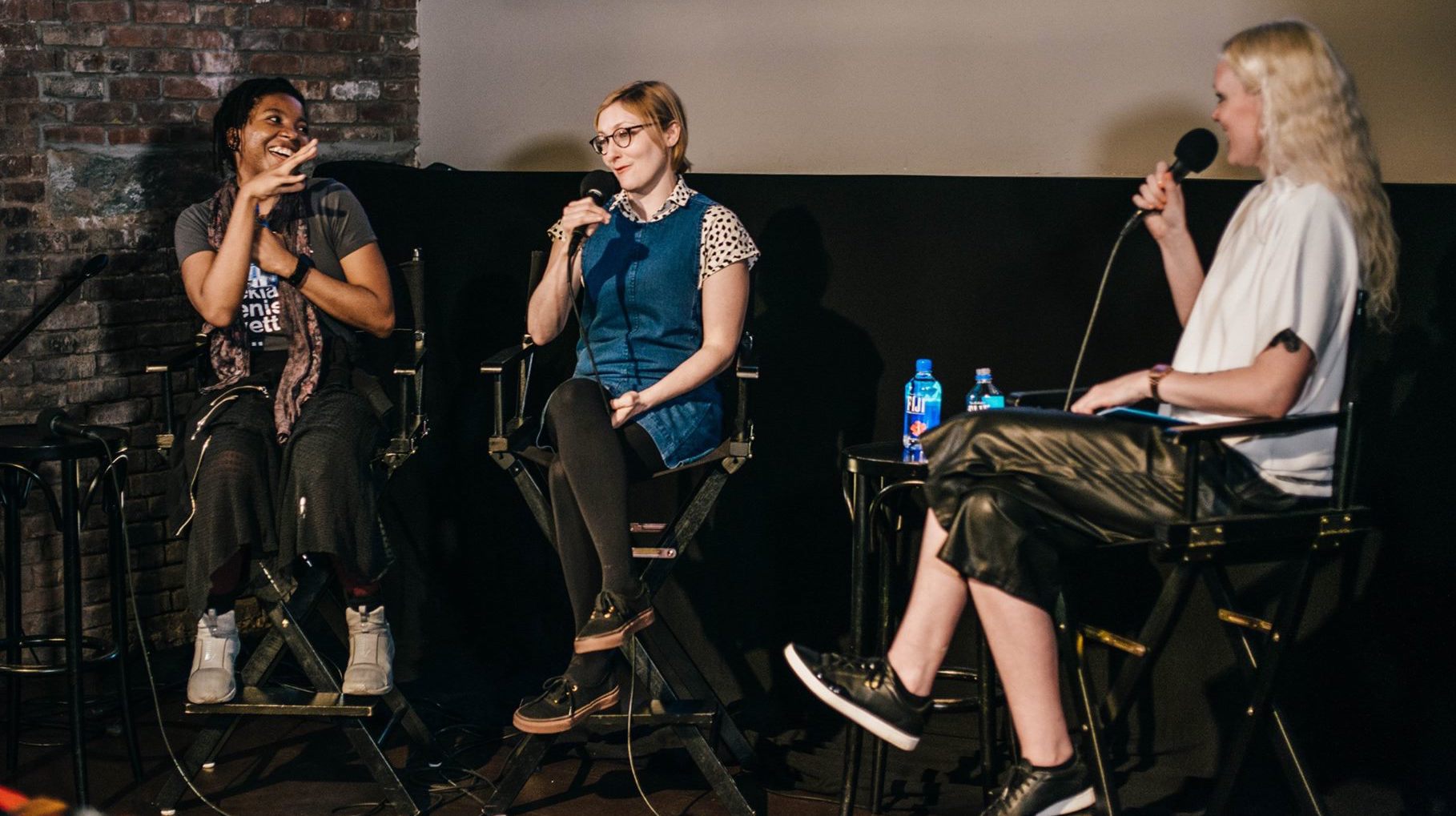 Me, fawning over the awesome Kelli Anderson.
This was also a great year for me in terms of tech, design, and speaking. In addition to a bunch of speaking gigs and design work, I also appeared on several podcasts including The Great Discontent and SheNomads. Here are some of the more notable things I did in tech and design!
Mozilla
While I was in San Francisco for GDC, I also had the opportunity to speak about public speaking for Mozilla's TechSpeakers program. My presentation was centered around storytelling and ways to organize presentations in order to better engage listeners. It was my first time officially speaking about public speaking, and I'd love to do so again! If you're interested in learning more about public speaking, the video is available on YouTube.
Create Upstate
A design conference in Ithaca, NY, invited me to do a presentation about design, tools, and time management in May. It was great to talk about more than the traditional UX topics. My message to listeners focused on accepting imperfection in design processes as part of our daily work. The message seemed to resonate well, and I hope I can talk about this more in the future.
Etsy!
My first year anniversary of working at Etsy passed this September. In this time, I've helped to launch multiple projects and collaborated with a variety of talented people. A month after my Etsyversary, I had the honor of helping to participate in the 2017 EU Captain's summit. People who sell on Etsy for a living told me about their experiences, and I co-presented a workshop about brand design.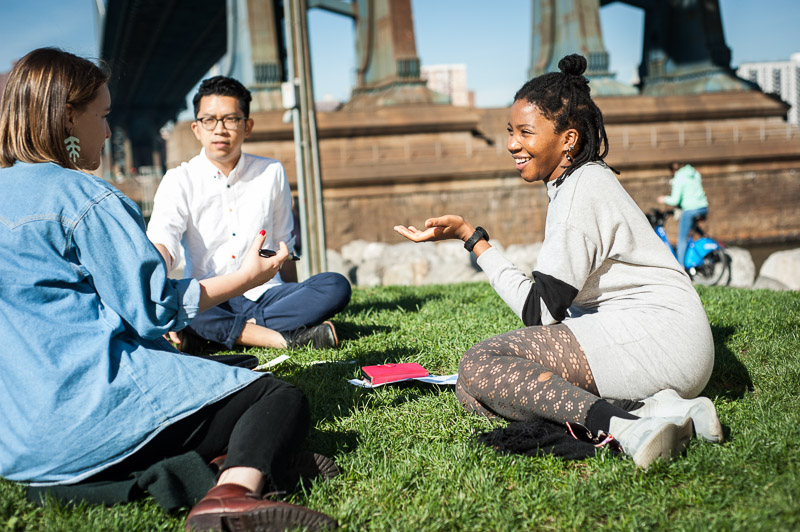 "That's the worst idea I've ever heard, Bob." Photo credit: InVision
Shortly after getting back from the Captains' Summit, Jessica Harllee and I were interviewed by InVision about design at Etsy. This month, I wrote about design documentation for Etsy's design blog. I'm thankful to work at a design-centric company that empowers creatives to make a living by doing what they love.
Good for PoC goes open
This September, we also decided to open source Good for PoC. Amélie, Jacky, and I are short-staffed and need a lot of assistance to turn this static website into a proper dynamic database of inclusive companies for people of color. If you're looking for an open source project to contribute to, check out the GitHub repository.
And of course: more writing
In addition to all of the above, I also found time to write. In July, I wrote about time management and personal assistants. As a person with a million side hustles, it was important to share my findings after experimenting with various personal and digital assistants.
After hearing and reading many arguments about free speech, the first amendment, and tolerance, I released a piece on the subject in August. I strongly believe that tolerance has limits, and ideas centered around spreading bigotry and hatred should not be accepted.
That's all, folks!
Gosh, this year went by so quickly – tomorrow is my birthday! I'm proud of all that I was able to accomplish in this time. My main focus next year will be building relationships with people. I will continue to work on Good for PoC, SweetXheart, and of course design at Etsy, but otherwise I will be refraining from spreading my energy too thin.
If you want to support my games, volunteer work, and writing, I have a Patreon as well as a variety of other options. However, as usual, I do this work because it is a form of self-expression. Thanks to all of you who vali
I wish all of you a wonderful 2018, and thank you for sticking with me!
Upcoming talks
In this workshop, you'll learn and practice techniques to become a more strategic SaaS designer by identifying and navigating political roadblocks that keep many designers stuck in the ideological playpen at SaaS companies. You'll form alliances with designers from across the industry in the fight for better product decisions and higher-quality user experiences.
Want to talk?
Got feedback, looking to suggest a future writing topic, or want to invite me to speak at your organization? Send me a message and I'll get back to you as soon as possible!