As you may know, I recently decided to end my time at SoundCloud. My next role is in a completely different industry: online marketplaces.
Tomorrow, I will become one of Etsy's newest Product Designers. More specifically, I will be working to improve the buyer experience of paying for goods as well as the seller experience of accepting payments. I can't wait to apply my design knowledge and experience to their challenges.
I am excited to learn and grow at Etsy for lots of reasons. Here are just a few:
Additionally, their HQ is in Brooklyn, where I live, so I can commute via bike again. I haven't done that in at least a year! The new Etsy office is also absolutely mind-blowing. For example, it has a decked-out maker room, including screen printing equipment!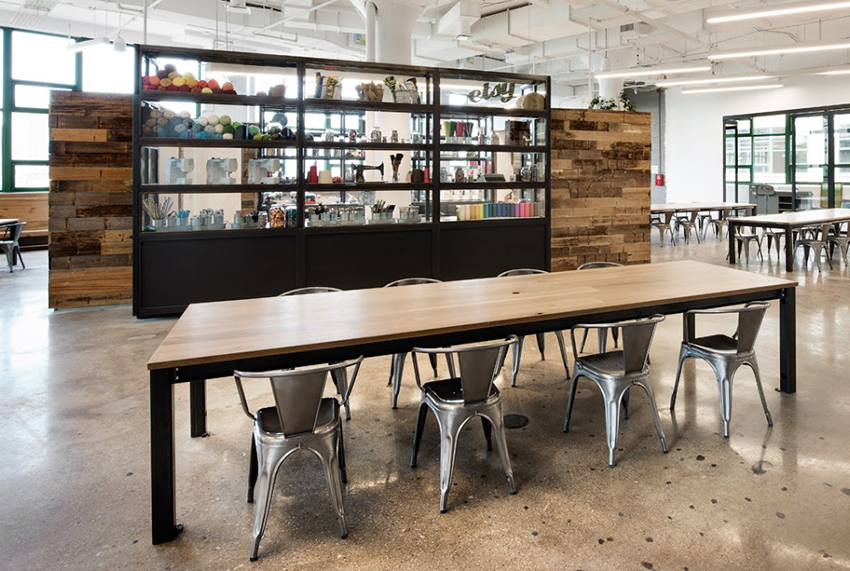 WHAT THE HECK! (Photo credit: Emily Andrews)
All in all, Etsy is an honest, transparent company that invests heavily in its employees. Every single Etsy employee I've ever met has been ambitious and talented, yet incredibly kind, humble, and positive. It is an honor to become part of such a thoughtful and inclusive company that has cultivated such a great workplace culture.
Wish me luck!
Upcoming talks
We're all aware: working while under duress is terrible! Especially as a designer. People often talk about design as a superpower because you can illustrate the future—and it often is quite magical. But when your skillset doesn't feel immediately relevant to your survival, the magic evaporates. In this very personal and relatable talk, I will share my experience with navigating hard times and experiencing a career block. Attendees will learn techniques for overcoming the malaise and building a guided, sustainable design career.
Want to talk?
Got feedback, looking to suggest a future writing topic, or want to invite me to speak at your organization? Send me a message and I'll get back to you as soon as possible!