Moving Out: Maximize the Space in Your First Apartment
Hello, dear internet! I'm back again after a lengthy amount of business! I've been occupied with work and other projects such as designing sprites for a game that should be out early next year. I have also been taking on website design work when possible. I'm always open to new projects, so if you need a new website designed and/or coded, feel free to contact me!
I also moved to a new apartment last week! It's very small, but fits within my budget and provides me with a great challenge: how do I fill 275 sq ft of space without feeling cramped? I decided to go with red, white, and black as my theme. Incidentally, the very Swiss, incredibly popular designer colors (even used in the designer-focused Helveticards, of course!) have always been my favorite colors. Perhaps I was always meant to design.

Here are a few items I've bought for my tiny box apartment to help beautify and maximize the space.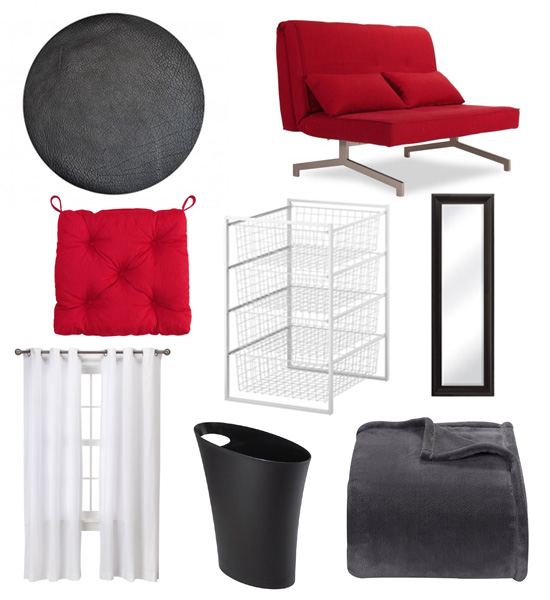 From left to right, top to bottom:
Brooklyn Bakery Jet Black Leather Floor Mat

Lovely and about 20x20in, this mat is soft to the touch and won't wear easily. I love to add texture with mats, pictures, and flowers, so this rug was a must-buy. It was about $50, right in my budget range. It's normally $80! It was still a tad expensive, but I'm hoping to have it for a long time.

Cardini Due Red Sofa Bed

Despite living in a tiny space, I believe a couch is necessary for guests and sleepovers. This sofa is under 50 inches wide and slides out to be ~70 inches long. Amazingly, it fits in my alcove according to the measuring tape! It was $480, and totally worth it.

IKEA RITVA Chair Cushion in Red

I did receive a few folding chairs from my mom and decided to outfit them with these. No one wants to sit on hard plastic, and these are really cute. I love the tufted look, and at $7 each it was totally acceptable.

IKEA ANTONIUS Frame & Wire Basket

I have a loft bed that lifts 1 meter off the ground, so I decided to buy 2 of these and put them under the bed. It works perfectly for storing all the shirts that won't fit into my single closet, and each was only $20!

Target Over-The-Door Mirror

This mirror looks quite lovely and only cost about $50. It's functioned well for the past 3 years and didn't even break when I moved it with minimal bubble wrap and cardboard.

Target Home™ Grayson Grommet Panels in White

My apartment gets a lovely amount of natural light, so I installed white curtains (as opaque as possible, of course) to amplify the light. It looks lovely and hides the window guards. I was originally going to go with black, but it's pretty obvious that black curtains aren't the best idea for a small space (unless you live in Alaska).

Umbra Skinny Can in Black

This thin can fits into the smallest of corners, yet fits a ton of stuff. It's $7~8 and worth every penny. I think I'm going to get another for the bathroom. 

Target Home Microplush Blanket in Gray

My boyfriend recommended this blanket and I'm beyond satisfied with it. It does leave a little fuzz on the sheets, but that's an okay tradeoff for the heat it provides. My cat leaves a little fuzz everywhere, but I like him, so it's no big deal. At $30, this incredibly warm blanket is definitely worth considering and comes in several colors.
Remember that a tiny apartment looks best when tidy and filled with light. Keeping it empty is never a good idea – fill your space with furniture that accommodates its small stature. Mirrors reflect light a ton and make the apartment look bigger, so have a blast with those too. I'm not sure what I'll do regarding a dining table – the one in my mom's house hardly ever got used. I might stick to using the couch as the dining area.
Good luck to all those out there who have left the nest! It's a liberating feeling, but a bit scary at the same time. I thought I'd never move out in this economy, but even I found a nice, clean, quiet space for me and my adorably handsome  cat.
Clean your dishes, sweep, and keep your heads up! 

Your friendly neighborhood Graphic & Web Designer, Catt
Upcoming talks
In this workshop, you'll learn and practice techniques to become a more strategic SaaS designer by identifying and navigating political roadblocks that keep many designers stuck in the ideological playpen at SaaS companies. You'll form alliances with designers from across the industry in the fight for better product decisions and higher-quality user experiences.
Want to talk?
Got feedback, looking to suggest a future writing topic, or want to invite me to speak at your organization? Send me a message and I'll get back to you as soon as possible!