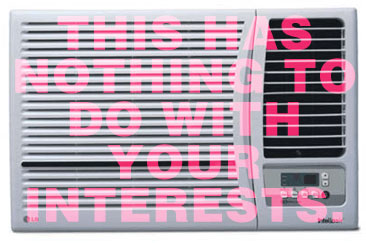 Spam has become considerably more annoying.  I suppose I should be glad, considering that the more spam I receive, the higher my ranking on Google is.  However,  I still find it insanely annoying.  If you decide to become a blogger and buy your own domain, please remember to install a spam-blocking plugin.
In other news, I am still without a new phone.  However, I may be getting a new computer so I can start working on something other than a laptop!  Hooray!  But I don't know.  I think I need a few weeks to think it over.  A workstation would definitely be awesome for sitting down and getting things done, but there is always a question of placement, as sitting in an office is much more helpful than sitting in the bedroom.  I would probably immediately sleep if I put it in my bedroom.  The only problem is that we have a giant air conditioner box blocking the office. It's quite a funny story.
We ordered an air conditioner via Amazon at the beginning of the summer to try and get ahead of the heat wave. We cancelled the order and payment the next day, but it was still sent out and received soon after.   Sadly, the AC came with an incorrect voltage plug.  We would've kept it had it been the correct voltage.  After harassing phone calls, we finally spoke to a customer service rep and agreed to send back the heavy AC.  We waited patiently for a return slip in the mail.  Alas, it's been nearly three months and we still have no return slip.
And so, there the AC sits in the corner of the office, blocking everything with its giant shipping box.
What should we do?  Would anyone like to buy an AC?
Though silkscreening class finished last week, I will still be making another set of books called FIRST GRADE MATH.  It's about Circle, Square, and Triangle in the style of a strange first grader's drawings.  I might consider continuing it after I finish printing, because I really like the concept.  If anyone wants to buy, I am making a set of 5 and want to keep one.  It will be stab-bound.
I WILL SAY NO MORE ABOUT IT!  Enjoy the summer weather!
IT'S FRIDAY!
Upcoming talks
In this workshop, you'll learn and practice techniques to become a more strategic SaaS designer by identifying and navigating political roadblocks that keep many designers stuck in the ideological playpen at SaaS companies. You'll form alliances with designers from across the industry in the fight for better product decisions and higher-quality user experiences.
Want to talk?
Got feedback, looking to suggest a future writing topic, or want to invite me to speak at your organization? Send me a message and I'll get back to you as soon as possible!